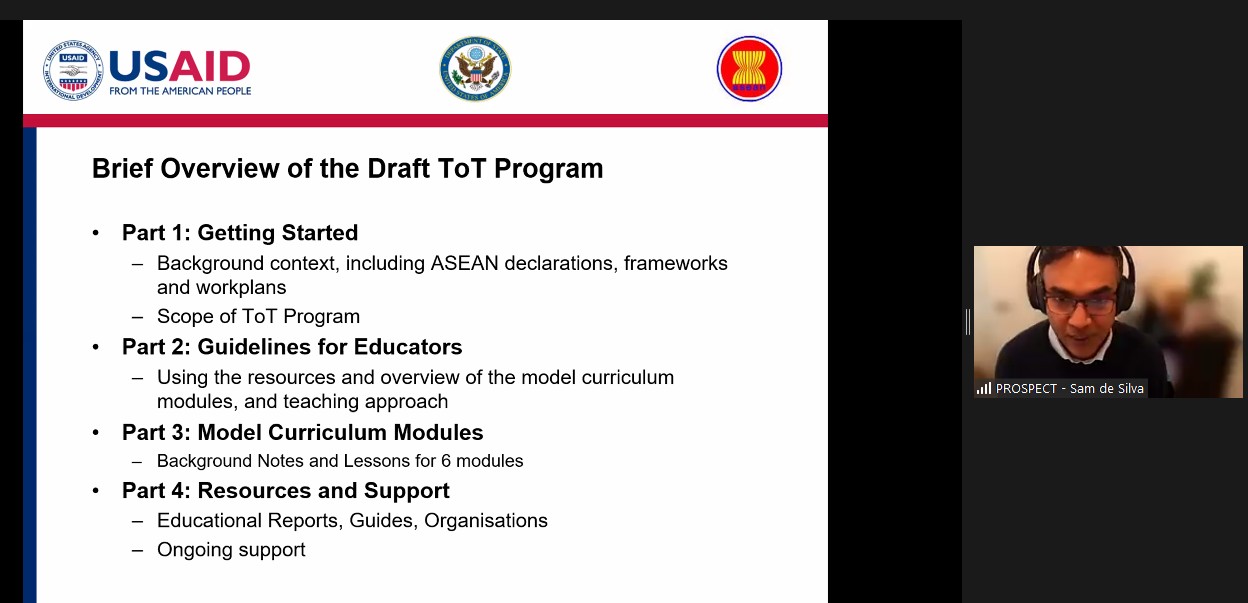 8th September 2021, Dr. Dhanakorn Srisooksai, CEO, and Dr. Chamnan Ngammaneeudom, an expert of Thai Media Fund, have participated in the "Second Multi-stakeholder Consultation on the Development of the Training-of-Trainers Program to Address Disinformation and Promote Media literacy" via ZOOM. The event hosted by ASEAN Senior Officials Meeting on Education (SOM-ED), in collaboration with ASEAN-USAID PROSPECT and the ASEAN Secretariat.
This activity is a part of "Addressing Fake News and Disinformation in ASEAN through Education n Media and Information Literacy" project, implemented by the ASEAN-USAID PROSPECT under the ASEAN education sector. The project aims to include media and information literacy skills subject matter in the curriculum of ASEAN secondary and tertiary education institutions, through the development of a TOT program to address disinformation and promote media literacy.
Following the 1st Multi-Stakeholder Consultation on the Draft Guidelines for the TOT Curriculum held on 25 May 2021, a draft TOT program was developed. As a follow-up, this 2nd consultation held to facilitate discussion and seek inputs on the draft TOT program, including its curriculum and modules, as well as discuss the ways forward on the finalization and implementation of the program.
Thai Media Fund is acting as a supporter, coordinator and facilitator to create safe, creative and constructive media and support people especially children, and youths having skills in media literacy through the working process of network members in every sector: government, private, civil society, academia, professions and local communities. It has participated in this event as a relevant civil society organization and has provided the comments and feedback to the ASEAN Secretariat.