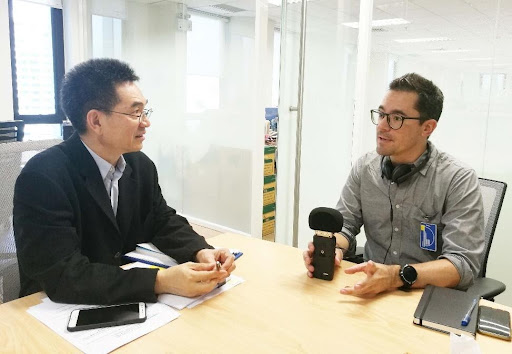 Mr. Wasan Paileeklee, CEO of Thai Media Fund or TMF, had an interview with Mr. Adam Bemma, Journalist, Developing World Media on 11 October 2019 at TMF Office on the topic of "What TMF is doing to collaborate on tackling the spread of online falsehoods?" and he gave the opinion on this topic as follows.
How is TMF working on tackling false information online?
Since TMF's objective is to promote and develop safe and constructive media including educating media literacy in Thai society, TMF tries to grant and empower its partners to work over the objective. TMF operates a school camp in order to teach the student 1. how to produce short clip especially on the topic of media literacy, cyberbullying and hate speech? 2. how can the student use media wisely and safely?
Which online issues does TMF focuses on?
TMF stresses on youth and children not particularly on any subject but Fake News, Hate Speech, and Cyberbullying. TMF believes that in the long term if people have media literacy skills, they can decide what is fake, they do not spread disinformation to others.
Who is TMF working with?
TMF works with professionals, journalists, producers, newspapers, radio, television, academics such as CU, TU and other universities, foundation, NGO, and State Agencies.
TMF is also working with the Ministry of Digital Economy and Society (MDES). As for Fake News, the MDES aims to set up the "Fake News Center" and organize this center with the aim to counter Fake News.
Mr. Paileeklee was invited to be a member of the center. TMF together with our partners believe that the way to counter Fake News in the long term is people having literacy skill. We have to educate people to have analytical skills and mind so that they do not believe anything easily.
Concerning the Fake News Center, there will be collaboration between many agencies on countering misinformation. This center won't be highlighted on the political topic and subject that might affect people' freedom and should not be used as for the political tool but on disaster, public health, public security, public infrastructure, and financial system, etc.
Moreover, TMF is working with civil organizations, academia and media to set up any collaboration to deal with this problem for example:
1) 17 June 2019, TMF co-hosted an "International Conference on Fake News" with other 7 organizations. The conference involves the experts from Thailand and overseas on countering Fake News, public policy in handling mis/ disinformation, fact-checking, and Media Information and Digital Literacy (MIDL). There were speakers from Ministry of Digital, Taiwan, Reuters, and AFP, etc. to share experience and information on countering Fake News.
2) TMF is supporting the TV program called "Sure And Share" which means you need to be sure before sharing anything. It is Thailand's first fact-checking TV program produced by Thai News Agency (MCOT) in Thailand.
TMF and Share And Share Program also organize a training session for school students to learn "how to do fact-checking with MCOT?".
TMF works with LINE and AP (news agency), they do a "STOP FAKE NEWS CAMPAIGN in Thailand, Indonesia and Taiwan". In Thailand, they set up 2 workshops in Bangkok and Khon Kaen.
In conclusion, Fake News is a problem not only for Thailand but also every country all around the world. Nowadays everyone can be a reporter. You can receive news and information and can distribute news by yourself.
In the past, you have media to screen and choose some news for you. Media worked as a gatekeeper for you. Now you receive news and information by yourself.
We need to educate, to campaign about media literacy. If everyone knows which news is false so they won't spread, circulate and will stop news.
TMF strongly believes that educating literacy to youth, children, and people in Thai society is a long term solution to countering Fake News.