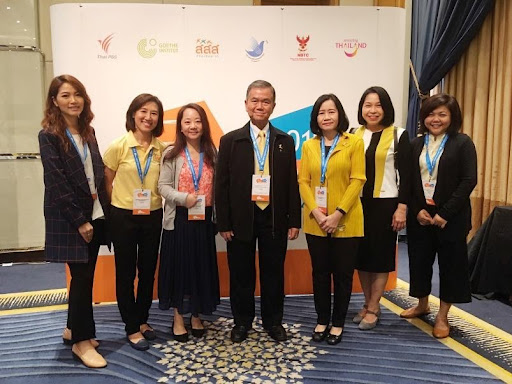 International Public Television Screening Conference to Promote the Role of Public Service Media as a Positive Driving Force within Society in Thailand
Since 1976, INPUT (International Public Television) has explored the frontiers of television, debunking the myth that telveision cannot be noth "popular" and "of high quality" at the same time. INPUT firmly stands for the notion that access to the most honest, innovative, provocative, courageous and challenging broadcasting is a universal fundamental human right. Since then, the conference has been held by a different host organization annually.
In 2019, it took place in Thailand and Southeast Asia for the first time in cooperation with the Goethe-Institut, the Thai Public Broadcasting Service (Thai PBS), the Thai Health Promotion Foundation (ThaiHealth), the Thai Media Fund (TMF), the National Broadcasting and Telecommunications Commission (NBTC) and the Tourism Authority of Thailand (TAT), marking a significant milestone in INPUT history and the history of public broadcasting in the region and in Thailand.
Mr. Wasan Paileeklee, TMF's CEO, gave a speech during the Moment of Miracle in Thailand Session on 7 May 2019. TMF and our networks' representatives have joined this event and gained a lot of knowledge and experiences from international experts in media field.
INPUT CONFERENCE
OVERVIEW
From 6-10 May 2019, the first INPUT conference in the ASEAN region and Thailand took place in Bangkok and offered surprising, simple, encouraging and stimulating answers to a challenge that is of concern to all public media professionals and organizations: How do public broadcasters stay relevant for their audience and what are public media values in the 21st Century?
Amidst the rapid and consequential transformations taking place in Thailand on a political, economic and societal level, platforms facilitating a dialogue between media content producers, policy makers, advocates and academics are vital in seeking answers to such questions.
The INPUT conference and Mini-INPUT initiative provided ample opportunity for open discussion, inspiration and insight on what role media in the public interest plays in
these transformative times. In particular, it enabled an exchange between media professionals from Thailand and international professionals from 33 countries, who face similar challenges in the current state of media and who may hereby share their experiences, aspirations, concerns and solutions.
In total 508 delegates attended the conference with 198 delegates from Thailand and 310 international delegates from Argentina, Australia, Belgium, Brazil, Canada, Chile, China, Denmark, Finland, Germany, Ghana, Hungary, India, Israel, Israel, Japan, South Korea, Mexico, Netherlands, Norway, Philippines, Poland, Russia, Singapore, South Africa, Spain, Sri Lanka, Sweden, Switzerland, Taiwan, United States and Vietnam.
In 27 sessions composed and hosted by 12 broadcasting experts from Canada, Denmark, Finland, Ghana, India, Japan, Switzerland, Sweden and the United States, taking place concurrently in three screening rooms over the course of four days, INPUT delegates were able to learn from the success and failures of their colleagues who made the 87 programs from 34 countries selected for screening at INPUT 2019.
For the first time at INPUT, a majority of the sessions were dedicated to fiction with 23 sessions, but 14 sessions tackled specific issues that anyone involved in factual filmmaking will have come up against as well.
The INPUT 2019 conference promoted the role of public service media as a positive driving force within society in Thailand and offered a truly international program discussion forum for television professionals in accomplishing their social, cultural, investigative and educational mission by sharing experiences and information in all aspects of public broadcasting.