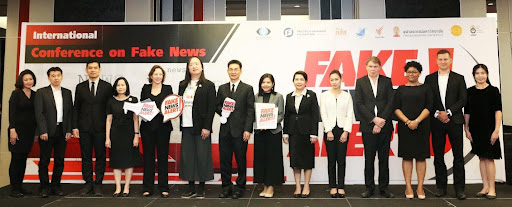 Tuesday, 11 June 2019, 8 parties namely; Thai Media Fund (TMF), The National Press Council of Thailand, Friedrich Naumann Foundation for Freedom (FNF), Thai Health Promotion Foundation, Thai Public Broadcasting Service (Thai PBS), Faculty of Communication Arts, Chulalongkorn University, Faculty of Journalism and Mass Communication, Thammasat University, and Online News Providers Association (SONP), have joined hands to sign the "Declaration of Combined Power Against Fake News" and continued to arrange "International Conference on Fake News" on Monday 17 June 2018.
The conference involves the experts from Thailand and overseas on countering fake news, public policy in handling mis/ disinformation, fact-checking, and Media Information and Digital Literacy (MIDL). With the cooperation of network parties, this event is a starting point for driving Thai society to cope with this problem more effectively by having MIDL skill to use media creatively and constructively. We also believe that after this conference, we could set up the working network to handle the problem of fake news at both policy and practitioner levels.
It is honored to welcome speaker and panelists from Taiwanese Government, German Bundestag (Parliament), news agencies (Thompson Reuters and AFP), online news organization (VERA Files) and academic (Journalism and Media Studies Centre, The University of Hong Kong) in a forum on encountering fake news, best practice and news discipline.
Please kindly find the report of lesson learned from the conference (English version from page 23 – 35) as attached file.