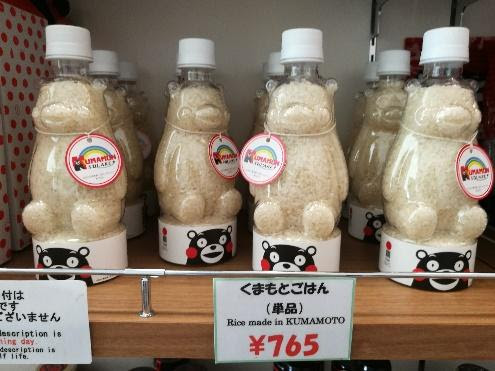 Profile of KUMAMON
KUMAMON is an official mascot created in 2010 by Kumamoto Prefecture of Japan. Its characters are naughty and stubborn. Moreover, it also takes a post of Kumamoto Prefecture's sales director in order to attract the tourists to travel to Kyushu region after the Kyushu Shinkansen line opened.
Strategy of KUMAMON
As a sales director, KUMAMON has a duty to collaborate with

well – known brands such as Pocky, Potato Chips, and Calbee etc. by using local product or raw material from Kumamoto for example: product from milk, orange, strawberry and seaweed, etc.

brands such as Teddy Bear (Teddy Bear KUMAMON by Steiff) and also foreign brand such as BMW Mini (Mini KUMAMON), KUMAMON camera by Leica and BACCARAT (KUMAMON Baccarat Ornament Limited Crystal) etc.

In Japan, KUMAMON Brand can be used with free licensing to anyone as long as they get a permission and their products promote goods and services from Kumamoto Prefecture.
Firstly, the brand used KUMAMON to illustrate in Kumamoto only, then expanded to other provinces in Japan that made KUMAMON popular throughout the country.
On the other hand, foreign companies who want to use KUMAMON illustrate, they must pay for the license. The prefecture is aiming to expand KUMAMON to be recognized around the world.
KUMAMON's character
KUMAMON is a sale director who bringing happiness to public and people. KUMAMON shown up at several places such as nursing homes, emergency shelters and kindergartens, etc.
This strategy started in 2016 after the great earthquake in Kumamoto in order to support the victim of the disaster. Its last show up was on May 5, 2019 which was the children day in Japan.
The outcome of creating KUMAMON character
The revenue of Kumamoto prefecture is increasing to 150 Billion JPY from selling illustrate of KUMAMON. The number of visitors to the region is up 12% since 2010.
Analysis and conclusion
KUMAMON Character planning
KUMAMON has a character to be helpful and supportive to people and public which comes from the understanding of the Prefecture's Board of Directors. The Kumamoto Prefecture Board of Directors fully supports in promoting KUMAMON so that the KUMAMON business team is highly dedicated to work and does not afraid in making a mistake.
KUMAMON itself is accessible to people of all ages.

KUMAMON does a publication in Social Media.
KUMAMON publicize in social media by creating KUMAMON accounts, at present KUMAMON has more than 800,000 Twitter followers and on his Facebook Page has almost 180,000 likes. In addition, they began uploading YouTube since 2018.