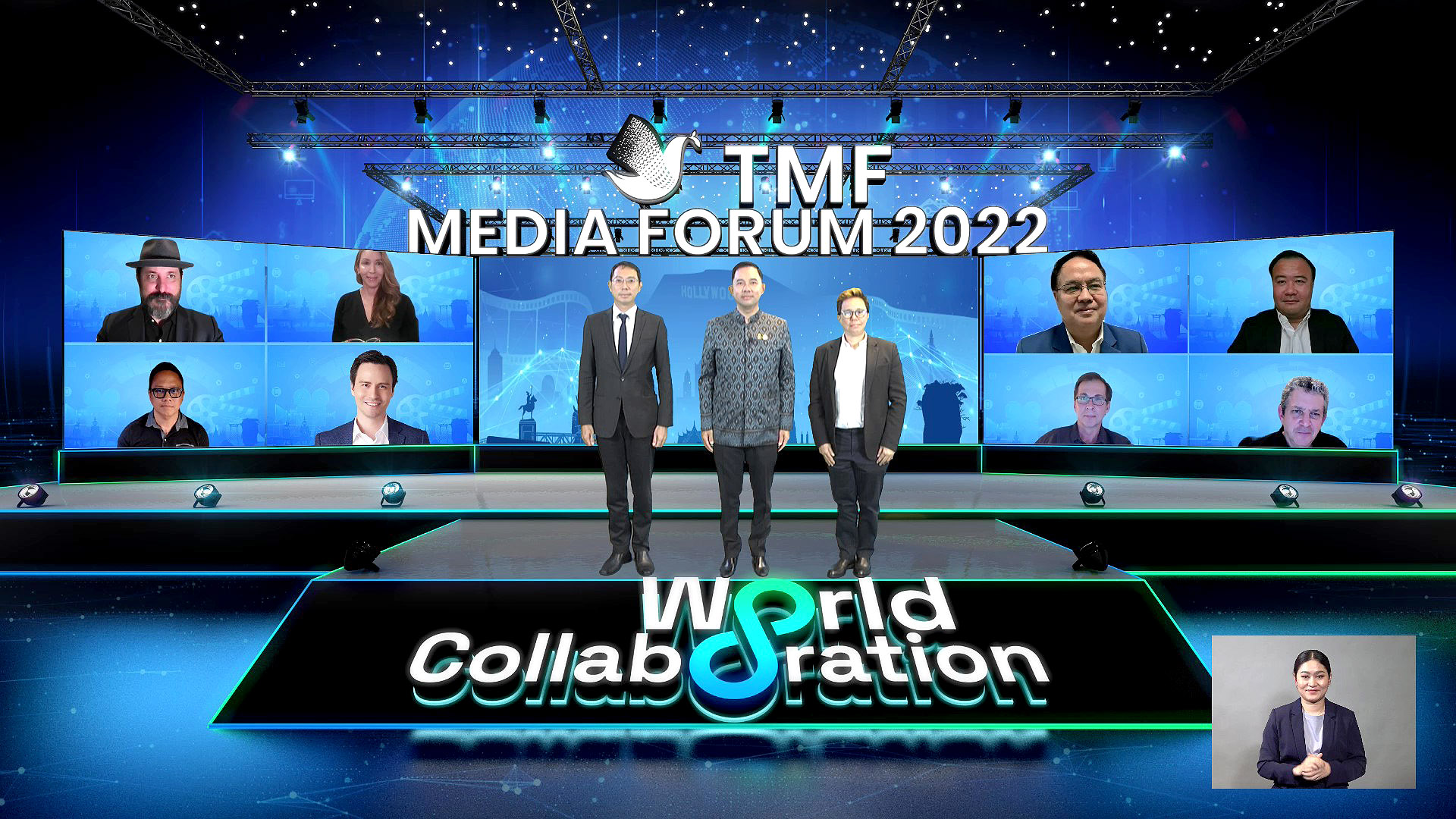 Thailand's first "TMF MEDIA FORUM 2022: World Collaboration", was a webinar on story development, entertainment production, international innovations, technologies, and distribution of media industry to the global market.  The event was hosted by the Thai Media Fund on June 16th – 17th, 2022.  The project's concept of World Collaboration implied and signaled the beginning of greater synergy and coordination between Thailand's media industry and global leaders such as those in Hollywood.  With the aim to elevate Thai media industry to a global platform, the forum invited both Hollywood and international experts to share in-depth experience, latest production and special effect techniques, insights into new business opportunities, as well as approaches to optimize Thai media distribution to global value chain. The attention for this webinar had exceeded our expectation and we're greatly appreciated the participation from all parts of local member industry.
The opening ceremony on June 16th, 2022, at the Swissotel Bangkok Ratchada, was presided by H.E. Mr. Itthiphol Kunplome, Minister of Culture and Vice-Chairperson of the Committee of the Thai Media Fund.  Dhanakorn Srisooksai, Ph.D., CEO of Thai Media Fund who gave the keynote speech welcoming speakers and members of the press.
The two-day webinar provided thorough insights, case studies, and references on the global perspective of media production process: pre-production, production, and post-production shared by experts with hand-on experience. Here was the synopsis of the content:
1. Tailoring Thai Cultural Intellectual Property for the World
Thomas Polson, Executive Post and VFX Producer, suggested that Thai producers, not only should study from other successful cases in Asia, but also should create their own intellectual property by leveraging the country's outstanding content features, such as horror genre, martial arts, food, family values, and local folklores as a narrative. The key was to impress audiences through universal storytelling that successfully delivered plots that everyone can understand and enjoy. Well-structured content is a key to well-developed media and story writers should avoid crowding too many ideas into one story.
2. Financing, Development, Production and Distribution. Perspectives from current Hollywood practices.
Michael Peyser was movie producer, media educator and innovator of digital craft and power of storytelling.  He informed the audiences that the real drivers behind content production was the understanding of audiences' preferences and the scope of that audience market ranging from mass markets to more specific niche markets. The development of AI technology had enabled the professionals to accurately forecast the size of target audiences, as well as perform financial analysis and budget planning.  For fundraising, there are plenty of resources, ranging from government funding to investments by banks, large studios, equity fund, and wealthy private investors, as long as producers were able to present attractive ideas and stories.
3. Preparing for production, movie producer's roles and responsibilities in the 21st century digital age.
Nicholas Simon, Founding & Managing Partner of Indochina Productions, shared his thoughts on the potential of Thai content despite the increasing popularity of Korean entertainment, Thai content had been also gaining more, well-deserved attention. It was recommended to begin media production with the stories that could really impress the producers and themselves, as well as capture interest from local audiences and capture international recognition.
4. Paradigm shift "The evolution of filmmaking in the area of Virtual Production."
Erik Weaver, Head of Adaptive and Virtual Production at ETC, emphasized the importance of adopting visual effects (VFX). Increasingly used, particularly during the COVID-19 era, VFX has become the new standard as it played a part in reducing production costs.
5. Post Production Technology and Visual Effect
Punn Wiantrakoon was the filmmaker and Virtual Art Department Supervisor at Amazon Studios Virtual Production. He identified tools and technologies as the heart and soul of virtual production with the correct tools; artists and producers could collaborate their work together from anywhere in the world – both virtually and physically.
6. Entertainment Distribution
M.R.Chalermchatri Yukol, Program Director of VIU Thailand, expressed that streamers had always been searching for fresh and new content. To satisfy content buyers' demand, producers should study the platform's existing contents and structure to understand the audiences' preferences toward that platform, in order to customize content and production for the specific platform. Elaborating on the approach, Yolanda Macias, Chief Content Officer of Cinedigm Corp. who had been responsible for acquiring global content rights for both online, cable, and broadcast distribution platforms, added that understanding the uniqueness of each platform, as well as creating connections with local producers, are important to platform developers in international marketing.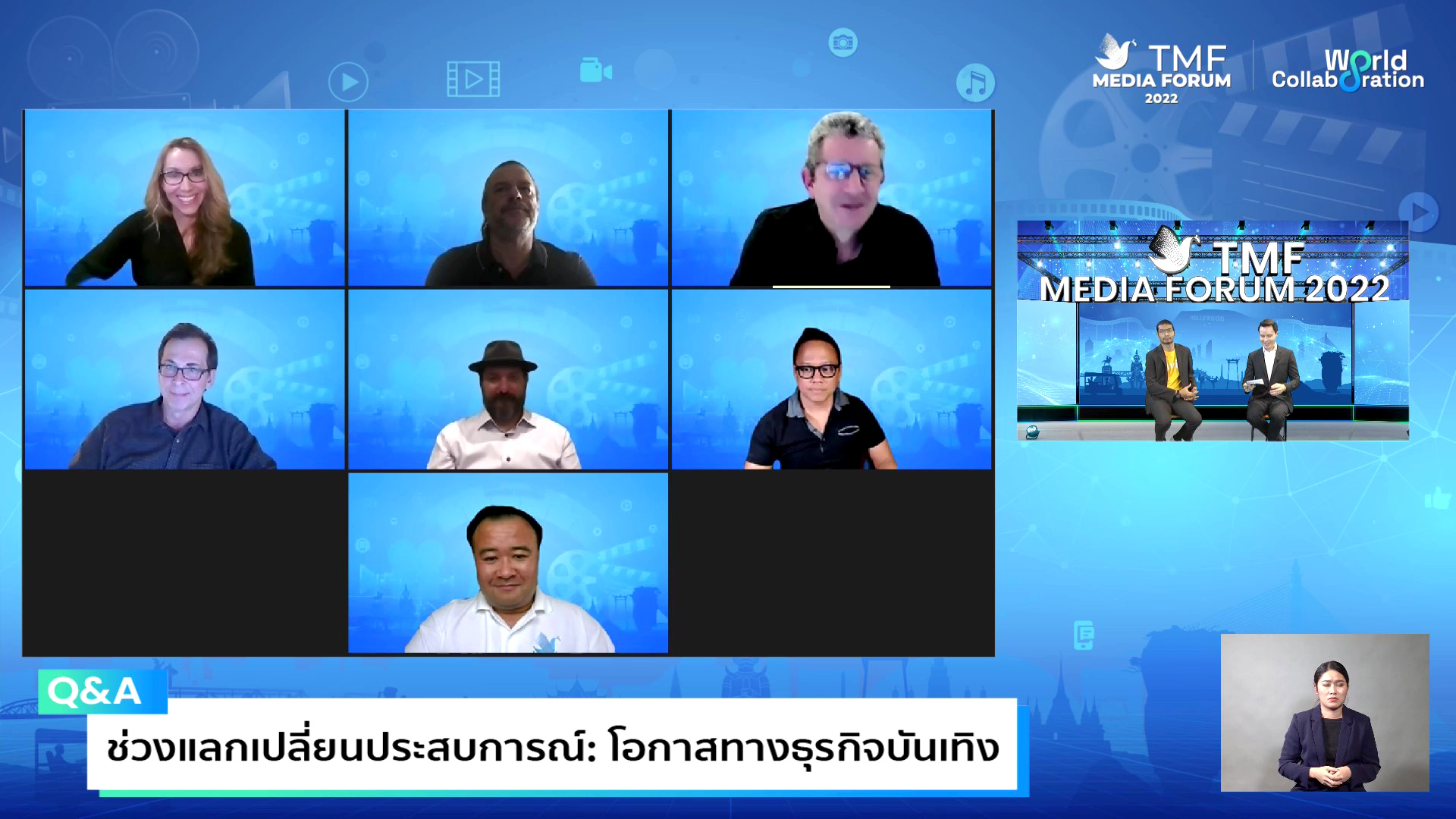 Other outstanding webinar topics include Post-COVID-19 changes and adaptations in the media industry (Producers-Audiences), risk factors in media production, adoption of soft power in story-telling, and customizing production for platforms.
The shared insights had fueled a lot of enthusiasm and created inspiration for many Thai media professionals – potentially leading to the elevation of Thai content to global platforms in the near future.
The webinar ended with the remarks by Dr. Chamnan Ngammaneeudom, Deputy CEO, Thai Media Fund.  He expressed sincere gratitude toward speakers and participants, and summarizing the essence of the webinar.  The key take-aways included importance of promoting Thai content to an international scale; Asia's international experiences in the field; market readiness for Thailand's Soft Power content; new technological support in production; roles of movie producers; good business models; new markets, particularly the streaming market; desirable content in a Thai context; insight study of platform's uniqueness; and the necessity of appearances in roadshows and festivals. Addressing all matters, the Thai Media Fund has been well-equipped and ready to support and provide funding for safe and creative content and media production – particularly in content that could eventually be internationally recognized.
Dr. Chamnan added that "In elevating the Thai media industry to an international level, The Thai Media Fund has committed to 3 promotion strategies: (1) development of quality creators, (2) promotion for media production and funding accessibility, and (3) promotion of local Thai contents with universal and global appeals.  Thai Media Fund strived to become the One-Stop-Service provider, thoroughly supporting Thai media producers – from idea development, fund sourcing, production, to international market access. Determined to bring international recognition and value creation to local media industry, we will be a connecting piece between local media professionals with international streaming platforms, as well as educating and training future media skills and international business etiquette."
Follow us for activity updates via www.thaimediafund.or.th and our Facebook Fanpage: ThaiMediaFundOfficial