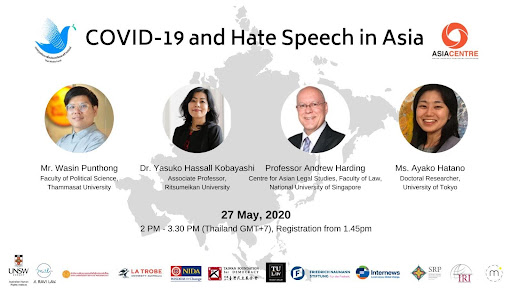 Under the collaboration between Thai Media Fund and Asia Centre on "Hate Speech in Asia: Challenges and Solutions" project in 2020, on Wednesday 27 May 2020, Asia Centre held its first #webinar on "COVID-19 and Hate Speech" in Southeast Asia, with up to 100 attendees.
There were 5 invited speakers:
Dr. James Gomez, Regional Director, Asia Centre

Prof. Andrew Harding, Centre for Asian Legal Studies, Faculty of Law, National University of Singapore

Dr. Yasuko Hassall Kobayashi, Associate Professor, Ritsumeikan University

Ms. Ayako Hatano, Doctoral Researcher, University of Tokyo

Mr. Wasin Punthong, Lecturer, Thammasat University
The session overall brought out the tension between freedom of expression and the potential for over-regulation of hate speech.
In this connection, the need to uphold international human rights law and to ensure that non-legal tools – policies and practices – address hate speech, including in highly polarised political contexts was noted.
A second #webinar on Hate Speech and Vulnerable Communities will be held on 24 June, 2020.
To attend this Webinar sign up: https://forms.gle/TZgMCQFUz8Z5uTCc9
Date: 24 June 2020
Time: 2 PM – 3.30 PM (Bangkok, Thailand GMT+7),
Registration from 1.45pm (Bangkok, Thailand GMT+7)
Contact: [email protected]
Website: http://asiacentre.org/